Welcome To Buffalo Gurdwara Sahib
A Place Of Learning & Worship
We Are a Gurudwara That
Believes In Humanity
ਅਵਲਿ
ਅਲਹ
ਨੂਰੁ
ਉਪਾਇਆ
ਕੁਦਰਤਿ
ਕੇ
ਸਭ
ਬੰਦੇ
॥
ਏਕ
ਨੂਰ
ਤੇ
ਸਭੁ
ਜਗੁ
ਉਪਜਿਆ
ਕਉਨ
ਭਲੇ
ਕੋ
ਮੰਦੇ
॥੧॥
"HUMANITY IS ONE, GOD IS ONE. THE CREATION IS IN THE CREATOR AND CREATOR IS IN THE CREATION."
A Gurdwara, meaning "the doorway to God," is the Sikh place of worship. The gurdwara also houses the Guru Granth Sahib (a compilation of teachings and philosophies from previous Sikh Gurus). People of all religious backgrounds or of no religious faith are welcomed into a Sikh Gurdwara. Every Sunday, after the program has concluded, free food is provided for all (Langar)
Living a good life in this world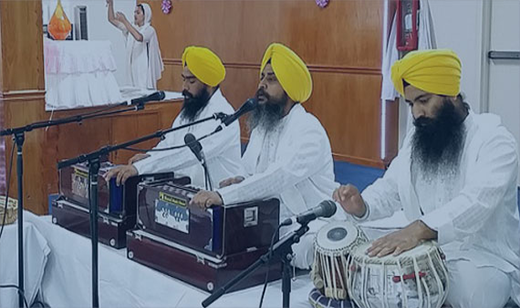 NAM JAPANA
"INTROSPECTIVE LIVING"
TO BE IN CONSTANT REMEMBERENCE OF THE CREATER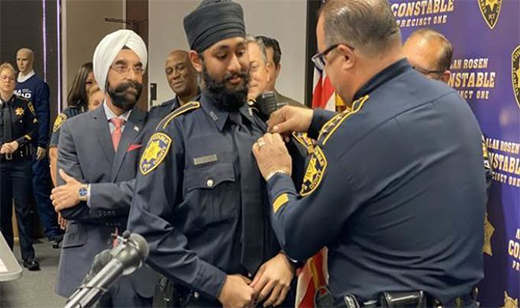 KIRAT KARANI
"TRUTHFUL LIVING"
TO EARN IN A JUST MANNER WITH INTEGRITY AND HONESTY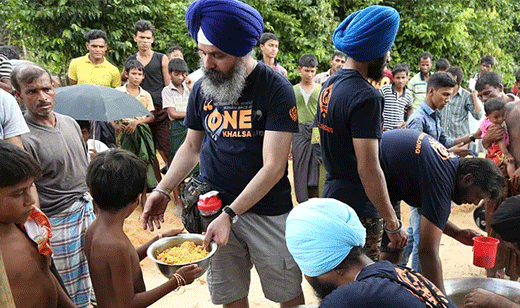 VAND CHAKNA
"GENEROUS LIVING"
THE SIKH CENTERS AROUND THE IDEA OF ONENESS
At Glance: The Sikh tradition, known in the Punjabi language…
A public commitment to maintaining the values and ethics of…
The founder of the Sikh tradition, Guru Nanak, was born…
Gurdwara is a place of learning and worship for the community. If available, visitors of any background can seek shelter, comfort, and food through the institution of langar, a free community kitchen open to all. Because the Sikh faith does not have an ordained clergy, any woman or man from the congregation may lead religious services.
The Sikh scripture is at the center of Sikh life, and it is also placed at the center of the gurdwara space. The entire Guru Granth Sahib is written as poetry and music, so the majority of a worship service is conducted in hymn singing. Community members and ragis lead the congregation in singing. and often community leaders will take a few moments to explain basic ideas and lessons from the selections. After the ceremony, the congregants gather for a meal together that is called langar. Everyone sits on the floor as a sign of equality, and people of all backgrounds and identity groups are welcome to join.
There are a few basic aspects of etiquette to know when visiting a gurdwara. Visitors must take off their shoes and cover their heads before entering the worship space. Both of these practices are signs of respect. Upon entering the space, Sikhs bow before the Guru Granth Sahib as a sign of submission to the teachings — this is not obligatory for observers. All congregants then sit on the floor together to participate in the worship and singing. Everyone is welcome to participate as they see fit. Most commonly, visitors prefer to sit, observe, and enjoy the music.
Guru Pyari Saadh Sangat Ji, WaheGuru Ji Ka Khalsa, WaheGuru Ji Ki Fateh!!
To comply with NY state guidelines and for the safety of our members, we will limit the congregation to 40 to 50 members based on the occupancy of the Main Hall. Sangat members must call Bhai Sujan Singh latest by Friday to confirm their names along with total family members @ 716 348 0596
Sunday Divan ONLY Schedule
10:00 am – 11:30 am Sukhmani Sahib / Nitnem Paath by Sangat on ZOOM
11:30 am – 12:00 pm Kirtan by Sangat on ZOOM
12:00 pm – 12:45 pm Kirtan by Bhai Sahib at Gurdwara (on ZOOM as well)
12:45 pm – 1:00 pm – Ardas / Hukamnama by Bhai Sahib at Gurdwara (on ZOOM as well)
Please carefully read these guidelines and additional information listed below:
Face mask is compulsory for everyone over the age of 4 years, while on Gurdwara Sahib premises
Our designated volunteers will take the TEMPERATURE reading of each member at the entrance. Any member having 100 degree or above will be regretfully asked to go back home and login through Zoom
All Sangat members must bring their own head coverings
Social distancing of 6' will be strictly followed while on the Gurdwara premises. Families will be requested to sit together in the Main Hall but must remain 6' from others
Wash hands with soap and water before arriving, use hand sanitizer before entering Diwan hall
If you are sick or have been in contact with sick people, please stay home – you will not be able to enter Gurdwara sahib, but you can join on Zoom
Even if you are not sick cover your cough and sneezes with a tissue or your elbow
The six feet marking has been done in the Divan hall, and outside to wait in line
No handshaking or hugging
Please bring exact currency change as no change will be made at Gurdwara sahib
There will be NO LANGAR provided for any Diwan service. There will be no access to the langar hall
Dry Parshad will be served in small cups
We recommend children/kids stay at home due to safety reasons. Virtual Punjabi classes will continue every Saturday.
Please contact us if you need more information
If you are diagnosed with COVID-19, please let the Gurdwara management know. We will keep confidentiality while taking steps to protect the sangat
Please do not participate in chaur seva to minimize germ sharing. Designated sewadar will brng his/her own Hazooria for seva and take back home after divan
Avoid social gathering before or after divaan
Please note Gurdwara Sahib will be open all 7 days for individual visits. Prakash Guru Granth Sahib ji 6:00 – 6:30am and Rehras / Sukhasan Seva starting 7:00PM
Thank you for your help and support as always.
Please stay safe and healthy. Always Chardi Kala and Guru Rakha Ji !!
Sewadars,
Gurdwara Sahib.
6569 Main Street.
Williamsville – 14221