Welcome To Buffalo Gurdwara Sahib
A Place Of Learning & Worship
We Are a Gurudwara That
Believes In Humanity
ਅਵਲਿ
ਅਲਹ
ਨੂਰੁ
ਉਪਾਇਆ
ਕੁਦਰਤਿ
ਕੇ
ਸਭ
ਬੰਦੇ
॥
ਏਕ
ਨੂਰ
ਤੇ
ਸਭੁ
ਜਗੁ
ਉਪਜਿਆ
ਕਉਨ
ਭਲੇ
ਕੋ
ਮੰਦੇ
॥੧॥
"HUMANITY IS ONE, GOD IS ONE. THE CREATION IS IN THE CREATOR AND CREATOR IS IN THE CREATION."
A Gurdwara, meaning "the doorway to God," is the Sikh place of worship. The gurdwara also houses the Guru Granth Sahib (a compilation of teachings and philosophies from previous Sikh Gurus). People of all religious backgrounds or of no religious faith are welcomed into a Sikh Gurdwara. Every Sunday, after the program has concluded, free food is provided for all (Langar)
Living a good life in this world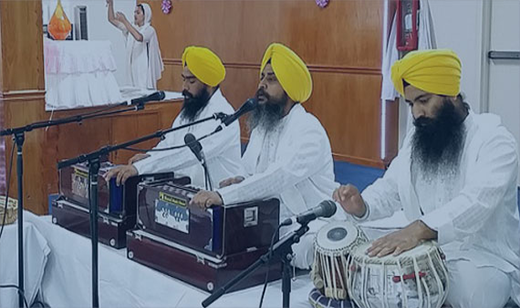 NAM JAPANA
"INTROSPECTIVE LIVING"
TO BE IN CONSTANT REMEMBERENCE OF THE CREATER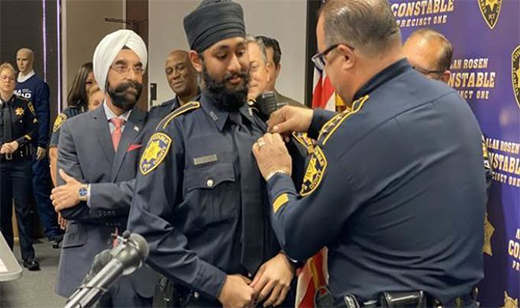 KIRAT KARANI
"TRUTHFUL LIVING"
TO EARN IN A JUST MANNER WITH INTEGRITY AND HONESTY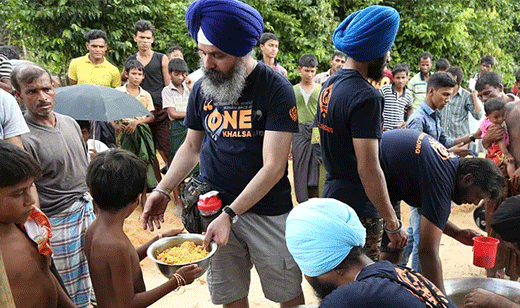 VAND CHAKNA
"GENEROUS LIVING"
THE SIKH CENTERS AROUND THE IDEA OF ONENESS
Actual Day Celebration Week 23 Poh / 5 January (Sunday)…
Actual Day Celebration Day March 2020 03/29/2020 View All Events
Vaishaki Khalsa Sajna Diwas and Nishan Sahib Chola Sewa Actual…
At Glance: The Sikh tradition, known in the Punjabi language…
A public commitment to maintaining the values and ethics of…
The founder of the Sikh tradition, Guru Nanak, was born…
Gurdwara is a place of learning and worship for the community. If available, visitors of any background can seek shelter, comfort, and food through the institution of langar, a free community kitchen open to all. Because the Sikh faith does not have an ordained clergy, any woman or man from the congregation may lead religious services.
The Sikh scripture is at the center of Sikh life, and it is also placed at the center of the gurdwara space. The entire Guru Granth Sahib is written as poetry and music, so the majority of a worship service is conducted in hymn singing. Community members and ragis lead the congregation in singing. and often community leaders will take a few moments to explain basic ideas and lessons from the selections. After the ceremony, the congregants gather for a meal together that is called langar. Everyone sits on the floor as a sign of equality, and people of all backgrounds and identity groups are welcome to join.
There are a few basic aspects of etiquette to know when visiting a gurdwara. Visitors must take off their shoes and cover their heads before entering the worship space. Both of these practices are signs of respect. Upon entering the space, Sikhs bow before the Guru Granth Sahib as a sign of submission to the teachings — this is not obligatory for observers. All congregants then sit on the floor together to participate in the worship and singing. Everyone is welcome to participate as they see fit. Most commonly, visitors prefer to sit, observe, and enjoy the music.
Waheguru Ji Ka Khalsa,  Waheguru Ji Ki Fateh 
Dear Saadh Sangat Ji,
Below is the schedule for Sunday's Virtual Divan via Zoom. (Please email to announcements@buffalogurdwara.com, for the details to login)
• Sukhmani Sahib Paath – 10:00AM – 10:30AM
• Asa Di Vaar Kirtan – 10:30AM – 11:15AM
• Shabad Kirtan – 11:15AM – 12:15PM
• Anand Sahib / Ardas /Hukamnama – 12:15PM – 12-30PM
Dear Saadh Sangat Ji, Due to the recent news that Covid-19 have been declared a global pandemic and the announcement from NY state Governor to ban large gatherings and also most school districts cancelling any events that involve large gatherings, all events including Friday Divan, Sunday Divan, Langar and Sunday Punjabi/Gurmat classes and Sikh Youth Symposium will be suspended effective immediately until further notice. The health and safety of the sangat, especially the elderly and members with underlying health conditions is our priority.
Following the recommendations from NY state agencies and CDC, we feel it is important that we refrain from gathering as a large sangat at the Gurdwara Sahib. We will continue to monitor the situation, and follow updates from local government agencies and CDC to decide when we can resume programs at the Gurdwara Sahib. To help us prevent the spread of Covid-19 in our community, we ask that you please refer to the guidelines at the CDC website: https://www.cdc.gov/coronavirus/2019-ncov/prevent-getting-sick/prevention.html
We appreciate your support. Stay safe!
Always Chardi Kala and Guru Rakha Ji !!
Sewadars, Gurdwara Sahib.
6569 Main Street.
Williamsville – 14221